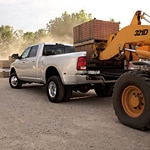 Exterior features are the features to key in on with just about any vehicle on the road. A person can tell quite quickly what kind of vehicle they want to drive based on the features on the outside. The interior is important too, but not nearly as vital as the exterior.
The Ram 3500 is a heavy-duty truck that brings with it an impressive exterior. To start, it is fully capable of being customized. This means you don't have to worry about any inability to get from point A to point B in style. You can enjoy the journey and still make it where you need to go while turning heads.
Never take for granted the limited 5-year warranty that the Ram 3500 comes with as well. You get a little extra peace of mind that your investment in a vehicle like this is protected when it includes a warranty just like that.